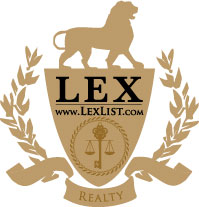 SEARCH RESIDENTIAL AND COMMERCIAL
MLS LISTINGS, FORECLOSURES, LAND CONTRACTS, LEASES AND RENT TO OWN OPTIONS

*Realcomp AND MiRealSource MLS Listings, Homes for Sale, Lease, Land Contract
*Homes, Condos, Vacant Land, Apartments, Commercial Listings
List Your Home or Business
Need help with a real estate transaction? Have questions about marketing, listing, trading, or selling real estate? Do you have trouble financing or face foreclosure?
Lex Advantage
LEX REALTY provides an unparalleled offering of Lawyer Consultation with Every Real Estate Transaction, and provides Quality Representation that is professionally tailored to meet each client's Financial and Legal Interests in both Residential and Commercial Transactions.
Search the MLS in just a few clicks or just call us to send you automatic emails on what is available both on the market and For Sale By Owner Listings and Leases. LEX also has Access to Foreclosures, Land Contracts, and both Residential Homes for Sale and Commercial Listings in Michigan that are Privately Offered.
Free Market Analysis for Residential and Commercial Sellers to help you effectively market your property. Get Help with Listing and Marketing Your Property including Property Management, Document Preparation and Review, Entry on the MLS, RealtyTrac or Loopnet, Web Advertisement, Virtual Tours, iPod Casts, New Multi-Media Advertising, Open Houses and More.
USE LEX REALTY TO:
** Represent and Negotiate Professionally on Behalf of Buyers or Sellers
** Facilitate Real Estate Transactions
** Guide Sellers in Marketing Property to Obtain Top Dollar
** Search and Provide Regular Property Listing Updates to Buyers
** Prepare and Draft Documents
** Attend Real Estate Closing - Pre-Closing and Post-Closing
** Assist Owners with Property Magangement
** Help Avoid Foreclosure
** Form Land Contracts
** Rental or Lease Agreements With Option to Purchase
** Seller Financing or Mortgage Transactions
Call 248.353.7800 for more information on how Lex Realty can help You